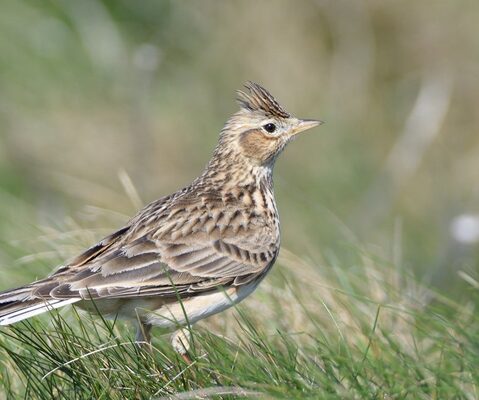 Threatened birds flocking to Trust's nature-friendly farms
Endangered birds have been flocking to National Trust farmland in Pembrokeshire thanks to efforts to implement a more nature-friendly approach to agriculture, according to the latest data from the charity.
More than 28,000 birds were recorded during the Trust's winter farmland bird survey, with 13 red and 12 amber list species of conservation concern sighted.
Farmland birds are one of the fastest declining groups in the UK, with a 54 per cent loss since 1970, largely due to modern intensive agriculture, fewer hay meadows and the removal of hedgerows.
This is the second year the Trust monitored birdlife at its tenanted farms in north Pembrokeshire between November and February.
Completed by a team of volunteers, the survey records how farmland species fare over winter, when they are particularly vulnerable due to loss of feeding habitats.
As well as indicating population health, the findings help the charity measure the success of its land management changes, such as resting fields for fallow, leaving some fields and margins unsprayed and sowing wild bird cover crops as a vital food source through the winter.
Yellowhammer numbers quadrupled from five in 2018-19 to 20 in 2019-20 while red-listed starlings and skylarks also saw a steady increase, up 32 per cent and 60 per cent respectively.
But one of the wettest winters on record and a series of Atlantic storms appear to have had an impact too. Lapwing and snipe both saw large falls, the former down from 946 in 2018-19 to just four in 2019-20.
Area ranger James Roden said: "It's really encouraging to see that our nature-friendly farming approach is continuing to help thousands of farmland birds in Pembrokeshire.
"We can't be complacent, there is still much more work to be done to help protect these birds.
"We will continue to work in partnership with our tenant farmers to support sustainable farming and create bigger, better places for wildlife."
A total of 28,036 birds and 59 species were counted across the farms, covering roughly 1,200 acres.
Monitoring involved walking a set route on each farm and recording all birds identified visually or by sound, with every site surveyed three times.
The work aligns with the Trust's 2025 ambition for at least 50 per cent of its farmland to be nature-friendly, with protected hedgerows, field margins, ponds, woodland and other habitats allowing plants and animals to thrive.