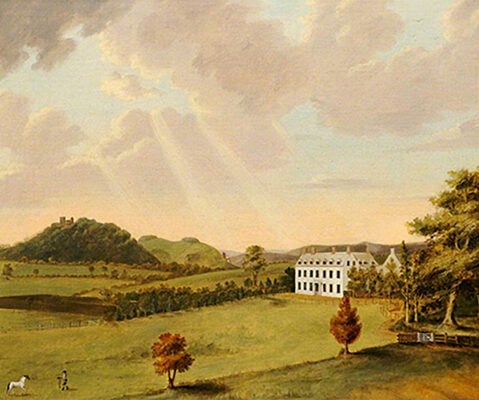 Golden Grove: A Tale of Two Families & Three Houses
House Historian Sara Fox examines the rich history of one of West Wales' most famous country estates.
Golden Grove is one of the most evocative Carmarthenshire landmarks that are scattered along the historic landscape of the Towy valley.
At its peak, the Golden Grove Estate totalled fifty thousand acres, including five castles and 12 manors, making it the largest and most important estate in South West Wales.
Two of the most influential local families held Golden Grove throughout the centuries and it was their personal aspirations and interests that drove the development of the estate.
The Vaughans
The Vaughan family claimed descent from the Princes of Powys and first appeared in Carmarthenshire in the latter part of the fifteenth century.
They acquired the land that they later called Golden Grove through the misfortunes of their kinsman Rhys ap Gruffydd of Dinefwr, after he was accused of treason and lost his head as well as his lands in 1531.
John Vaughan built the first house at Golden Grove when Elizabeth I was a young queen.
It must have been a substantial mansion as it had 30 hearths in the seventeenth century.
He welcomed the travelling bards and in a praise poem of 1563/4 to Siôn Fychan, the poet Wiliam Llŷn intriguingly refers to the house here,
I have loved your court, houses of the cross with wine,
dignified columns'
(trans. Eurig Davies)
His grandson, another John, found himself caught up in the volatile political events at the end of Elizabeth's reign when his father-in-law, Sir Gelly Meyrick, was executed for his involvement in Essex's revolt of 1601, which placed Vaughan temporarily under suspicion.
In 1604 he was appointed sheriff and in an early example of social distancing, he hosted the great sessions at Golden Grove after the plague ravaged Carmarthen.
He set about reinventing himself as an obliging courtier to the Stuarts, accompanying Prince Charles to Spain on his ill-advised attempt to woo the Infanta.
He later claimed that serving the Prince of Wales had cost him £20,000 (roughly £2.6 million in today's money) which Charles never repaid, although eventually he did make him Earl of Carbery.
John's son Richard Vaughan, the second Earl, had a chequered career during the Civil War.
He commanded South West Wales for the King, but his heart does not seem to have been in soldiering. He was captured by the Parliamentarians in 1643 and after this, it appears he took no real part in the war.
After the Restoration, Carbery was appointed Lord President of the Marches of Wales, but he was removed from the position in 1672 owing to a scandal caused by his ordered mutilation of some of his servants and tenants at Dryslwyn.
It is not surprising that he was described as a man of 'pride and menacing insolencies'.
The beautiful portrait of his second wife Frances, long thought to have been by Peter Lely, was recently the subject of an intriguing BBC documentary where experts found that the portrait had in fact been painted by Britain's first commercially successful female artist, Mary Beale.
Frances, Countess of Carbery, seconod wife of Richard Vaughan, second Earl of Carbery.
The portrait was thought to have been by Peter Lely but is now believed
to have been painted by Britain's first commercially successful female artist, Mary Beale.
(Simon Gillespie Studios)
Local legend, says that Oliver Cromwell spent a night at Golden Grove and that Carbery, on learning of his approach left his pious wife to entertain the general, while he hid himself in a neighbouring farmhouse.
Cromwell must have enjoyed her hospitality as he is said to have sent the lady a present of some deer from the royal parks, the descendants of which may still graze in the parkland today.
Their younger son, John, the third and last earl, was appointed Governor of Jamaica in 1674 with instructions to develop sugar planting and negotiate prices of slaves with the Royal African Company.
This brought him into conflict with the notorious pro-buccaneering Sir Henry Morgan, who had been appointed his deputy.
The economic development of the island during this period meant that as the hegemony of the pirates declined, an industrial level of slavery and its associated cruelty and brutality was ushered in.
On his return to Britain, Carbery was prominent in learned societies, but was also known for his debauchery.
He was described by Samuel Pepys of all people as "one of the lewdest fellows of the age."
Lady Anne Vaughan his daughter, married the Marquess of Winchester in haste and repented at leisure as their marriage was an unhappy one.
When she died in 1751, she left Golden Grove to a distant cousin, yet another John Vaughan, from Essex.
The Tudor house at Golden Grove had disastrously gone up in flames thirty years earlier and was rebuilt by him, although he never lived there.
When John's grandson, the last John Vaughan of Golden Grove died in 1804, there were plenty of Vaughan relations, including a sister who might reasonably have expected to inherit the estate, but they were all snubbed in his will.
Instead, a widower and childless, he left everything to his best friend, John Campbell.
This did not stop the rumour mill and a story took hold, that when travelling in Europe together on the Grand Tour they had each made a will in each other's favour in case of death, to avoid local officials seizing their belongings. Instead of destroying Vaughan's will on their return it was claimed that Campbell kept it his copy and produced it on his friend's demise.
The Cawdors
John Campbell, Baron Cawdor, who was part of the anti-slavery faction in Parliament, and recklessly addicted to the collection of art and antiquities, inherited a Golden Grove heavily encumbered by debt.
A true romantic, he married Isabella Caroline Howard, daughter of the impoverished Earl of Carlisle after apparently falling in love with her at first sight.
When his son John Frederick Campbell came into the estate in 1821, he commissioned Jeffry Wyatville to design a fashionable new mansion in Scottish Baronial Gothic which became the third incarnation of Golden Grove and was located in a more commanding position on the hill above the old house.
During the Second World War the house was a school and was also used by the American forces.
The County Council acquired a lease on the property in the 1950s, using it as an agricultural college, and opening the park to the public until 2003.
It was sold several times after this in quick succession and the house and grounds quickly deteriorated.
However, in October 2011 the property was acquired by the Golden Grove Trust which has now reopened the park, arboretum and tearoom so that once again visitors can enjoy the tranquil loveliness of Golden Grove.
The park is open every day between 9am and 6pm, the cafe from 10am to 5pm in the Summer & 10am to 4pm in the winter. There is a parking charge of £1.50 2hrs, £2.50 3hrs, £4.00 all day. For entry to the Arboretum £4.00 adults, £2.00 children. Dogs are welcome & can run free in the park but must be on leads in the arboretum).
Find out more about Sara's work via her Twitter account @HouseHistorian1