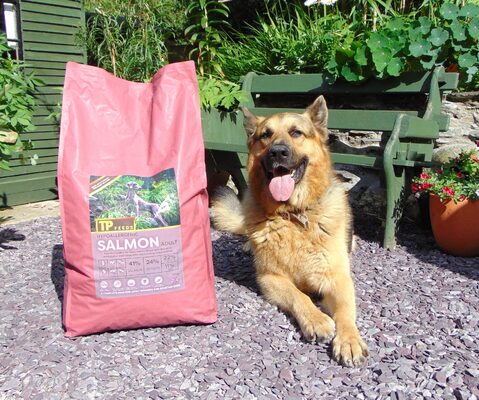 Real food for your four-legged best friend
Launching your own high-quality pet food range from a smallholding in Carmarthenshire while single-handedly raising two small children might seem like a crazy idea, but then crazy ideas are nothing new for Beth James.
"I've never been one to think inside the box," said Beth, founder of the award-winning TP Feeds. "I've never even been in the box – I've always been outside it."
Beth, 29, launched the company a little over three years ago after stints as a dairy herdswoman, a championship-winning gundog trainer, a vet's receptionist, and owner of an online pet store.
Beth James of TP Feeds
Her thinking was simple: to offer high quality pet foods while ensuring her customers knew exactly what they were getting – something that could not said of many of the brands she had found herself selling when running her online store.
"There is a lot of clever wording in pet food labelling," said Beth, "but a lot of the brands – including top brands, literally contain rubbish.
"I don't do things by half."
"You have to decipher the list of ingredients to work out what is actually in them – and you'd be surprised, because it is not what you'd expect, even from companies you'll have thought of as top brands.
"I was shocked when I realised what many brands were putting in their pet foods.
"When I started TP Feeds, I was looking for a solution that made sense – I wanted to produce a food that was high quality but simple to understand while being affordable for an average household."
Originally from Ammanford, Beth spent her childhood in the north of England, where she attended a rather posh all-girl grammar school, but despite sailing through her GCSEs as a straight A student, she had little interest in following the standard path of A-levels and university.
"I wanted to do something different," she said, "so I started work on a dairy farm near Derbyshire at the age of 16. When my headmistress found out, she was mortified."
At 18, she moved back home to Carmarthenshire to a smallholding near Llandyfaelog, just outside Kidwelly, with her dad – a retired vet – and decided to try her hand at gundog training.
"My dad has had working dogs all his life," said Beth. "We were walking in the fields one day and I just said to him that I fancied training dogs to compete. He just said: "go for it." That was all I needed."
Within a year or so, she had earned a reputation as a serious trainer and the awards rolled in. Her first dog won the national championship.
"My dog was only 18 months old and I was still only 19. I looked at the trophy and the list of dogs that had won it the past, real champion dogs. It was an amazing feeling."
Amazing it might have been, but then again, so is Beth.
"If I'm going to do something, I go all out. I don't mess about," she laughed. "I don't do things by half."
After claiming a young entrepreneur of the year award for her online pet store and a short stint as a receptionist with a Llanelli vet's surgery, it was time to rethink her life following the arrival of her first child.
"I was looking for a way forward that wasn't going to take me away from my son and that was going to fit in with what I wanted to do. I wanted to do something I really believed in and something I felt good about. The key driver was happiness. I need to be doing something I enjoy."
She launched TP Feeds just after her son turned one, and true to form, she went all out.
"I was selling a lot of brands, including big brands, when I was running the online pet store, and I could see what was on the market," she said.
What she saw made her realise that customers – and their pets – were being sold short.
"I wasn't happy with what I was selling. Many producers skate over the ingredients in their food, so if something says "with chicken" or "rich in chicken" it means that chicken isn't the main ingredient.
"A decent dog food should tell you exactly what is in it."
"Lots of brands only tell you the category of the contents – animal derivatives or derivatives of a vegetable origin, oils and fats. What actually is that? It tells you nothing, and it means they can change the recipe without telling you. Every single batch is likely to be different to the last because they use the cheapest ingredient available within that category at the time.
"It looks the same – it has the same label, the same bag, but it is actually a different recipe because it is a different batch. This can be a real problem, particularly when it comes to dogs with any kind of allergy.
"It is perfectly legal, but it seems wrong to me. You have no idea what you are actually feeing your pet.
"Meat should be the primary ingredient in dog food. If it comes third or fourth on the list, then you know there's a problem. Even with brands that people think are good quality, the main ingredients are nothing but filler.
"A lot of the top brands built their reputations decades ago when people just wanted convenience – canned food gave them that at a cheap price, but tinned foods mainly contain rubbish with low nutritional value and it wrecks teeth because it has so much sugar in it and it just sits on the teeth because there is nothing to crunch.
"The main content in tinned and pouched food is actually water – very expensive water – so pets need much more wet food to achieve the same nutritional content as dry food.
"The big brands have managed to retain the popularity without improving the recipes, but smaller companies, like myself, are selling purely on the quality of the product.
"A decent dog food should tell you exactly what is in it."
All Beth's products are created by a team of specialist nutritionists.
"The key to my pet foods is the quality of the product balanced against the price for the customer and how simple it is to understand. If you look at the label you know exactly what you are getting. There is no wool being pulled over anyone's eyes with fluffy wording or technical language. It is important that people understand what is in the recipe and trust the product.
"When a customer comes to me, they are not just buying a product. They are buying into me. They are buying into my knowledge and experience and knowing that I am there to help them.
"When I first launched the business, I wanted people to know who I was so they could trust me. I wanted to be able to say, this is me and this is my product. I am available to answer for it."
That desire to be more than just a brand name runs through the whole of Beth's ethos – she attends numerous agricultural shows and events in person, and she – or her dad – deliver all orders within a 50-mile radius.
"I take out deliveries myself not because I have to, but because I can. It keeps that connection with my customers. I love meeting my customers and seeing the dogs and the cats that eat my products because it builds that relationship. People know they are not just buying pet food; they are buying from Beth. You connect more.
"It is the same situation with retailers. All my retailers are small independent stores because they are the people I want to work with. You can build a relationship with those retailers and they in turn have a relationship with their customers so there is a direct connection.
Beth's combination of high-quality ingredients and the personal approach has reaped benefits.
"Within my first year I had won three awards. I was amazed."
And the awards have been rolling in ever since – she is now well into double figures.
"It has been completely bonkers in that respect, but this is something I have a real passion for – I love what I do. I don't dread Monday mornings; I get up each day and I want to do it and get better at it.
"When you put it in that context, a high quality dog food business doesn't sound so crazy after all."