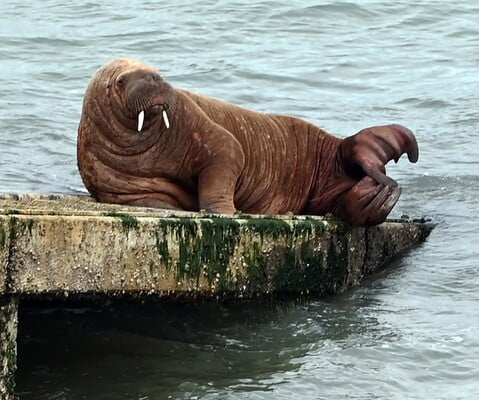 Where's Wally? West Wales biggest visitor makes a splash
West Wales is renowned throughout the world for its hospitality.
The steady stream of tourists who make their way to the three counties has long been part and parcel of daily life for the locals, and we welcome visitors with open arms.
Our stunning beaches and beautiful countryside are even known to encourage the rich and famous to venture out west, but it is quite rare for a guest to become a celebrity purely because of their visit.
However, the most recent arrival to our shores has certainly made something of a name for itself, thanks mainly to their trip and the length of their stay.
That name, which has been making headlines around the world for the past few weeks, is Wally. And it belongs to a giant Arctic walrus.
Wally was first spotted basking on rocks at Broad Haven on March 19 before appearing at Tenby the following day.
Since then, Wally has become something of a regular fixture at the popular resort and has often been spotted lounging on the lifeboat station slipway.
The giant mammal, roughly the size of an adult cow, is believed to be about three years old, but while some experts have claimed Wally is actually a girl it is proving difficult to be sure of his or her gender as both males and females have tusks.
Although apparently enjoying its time in west Wales, Wally would be more at home swimming in the icy waters of the Arctic Ocean around the North Pole.
His natural home is most likely to be somewhere off the coast of northern Canada and Greenland, so the question of how he came to arrive off the Pembrokeshire coast has left wildlife experts scratching their heads.
It is thought that the giant beast might have become lost after nodding off on an iceberg that had drifted much further south than Wally had realised.
Another theory is that Wally might have moved into lower latitudes while hunting for food or possibly became disorientated after being disturbed by loud noises, perhaps made by deep-sea fishing trawlers or other some other large-scale vessels at sea.
Whatever the reasons behind Wally's arrival in Wales, he or she has certainly been breaking new ground – the RSPCA believes this to be the most southerly sighting of the species ever.
Geoff Edmond, RSPCA national wildlife coordinator, said, "This was a landmark for the RSPCA's wildlife team.
"While we've been rescuing animals and responding to welfare calls for almost 200 years, I believe this is our first ever walrus call!"
Terry Leadbetter, from the Welsh Marine Life Rescue, thought someone was pulling his leg when he was first contacted with a Wally sighting.
"We thought it was a spoof call because we don't get walruses down here," said Mr Leadbetter.
"But shortly after that we had another report from somebody sounding quite sensible saying it was definitely a walrus so we went out and sure enough it was."
Wally first appeared off the coast of Ireland in mid-March but less than a week later was spotted relaxing on Pembrokeshire's coast.
Posting on social media, The Irish Whale and Dolphin Group, said: "The white blotch on the left fore-flipper and similar tusk length confirm the walrus is the same individual.
"This is an impressive distance of circa 250-plus miles travelled over a six-day period, which is well within the capabilities of such a large marine mammal who can maintain average swim speeds of four mph.
"Walruses, despite their bulky frame and clumsy appearance on land, are surprisingly strong and agile swimmers capable of long ocean swims."
Despite disappearing for a few days over Easter – possibly after being disturbed by all the sightseers flocking to the area in the hope of sighting the unlikely visitor, Wally appears to be enjoying his new-found celebrity status.
He or she has been seen playfully capsizing inflatable dinghies and attempting to climb onboard a fishing boat.
Wally was even recently spotted balancing a starfish on its nose by Amy Compton, a volunteer for the Welsh Marine Life Rescue.
"I couldn't believe it when it popped up with a starfish on its face, it was so funny and something you just didn't expect to see," said Amy.
"It's an incredible experience to monitor such a beautiful and amazing creature, it's such a character."
However, while a glimpse of Wally has become a highlight for two-legged visitors to Pembrokeshire, people are being urged to stay a safe distance away and not disturb the animal – or face the possibility of a criminal record.
Wally – and animals like him or her – are protected by the Wildlife and Countryside Act 1981 and anyone caught disturbing them may be fined or even face a six-month prison sentence.
In a joint statement with Dyfed-Powys Police, RSPCA inspector Keith Hogben said: "People need to enjoy him from afar, avoid potentially spooking the animal and allow him to rest and conserve his energy.
"We've all got used to social distance over the last year - and that's something we now need to practice with this walrus."
The appeal follows reports jet skiers, surfers and paddle boarders disturbing the walrus by getting too close.
PC Kate Allen, of the Dyfed-Powys Police rural crime team, said: "Recent posts have been seen on social media regarding members of the public approaching Wally from the water and disturbing him, however we have had no reports directly to us.
"We ask that in the event that this occurs, these matters are reported to the rural crime team and/or the RSPCA rather than posted on social media."
She added: "We don't know if Wally will settle here or decide to move on from the area, but we ask while he is here that he is enjoyed from a distance."